Infobric launches unique service for monitoring suppliers in the construction industry.
In 2020, Infobric launched a digital service to help construction companies combat undeclared work and other risks posed by unserious contractors. The service simplifies for construction companies to continuously monitor that all sub-contractors are compliant with rules and regulations.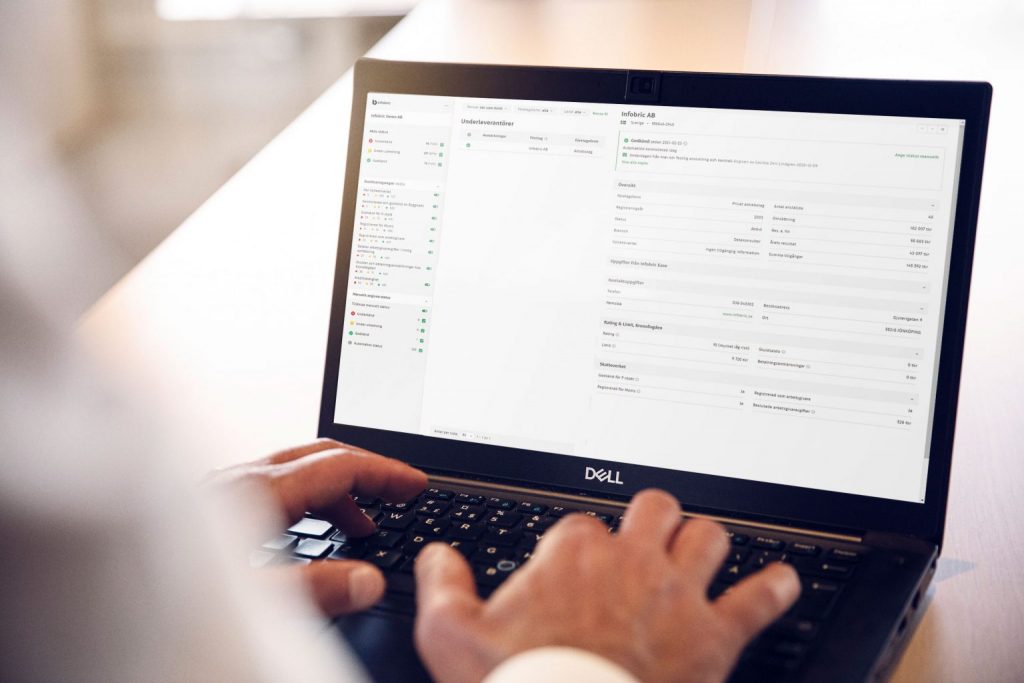 For a long time, the construction industry has been hampered by problems and risks associated with unserious contractors who systematically circumvent applicable rules and conditions and, by extension, pose significant risks regarding tax evasion, exploitation of workers, unsafe work environments and the reputation of the industry. A research collection published by the Swedish Construction Federation, Byggföretagen, shows that one of the major challenges is the lack of possibilities to monitor compliance with regulations. A contributing factor is a lack of tools for monitoring all the parties involved in the complex supplier hierarchies in construction projects.
Automatic and continuous control of suppliers at all levels
The Supplier Control service eliminates the lack of transparency and monitoring at all levels since all suppliers who are, or will be, working on the company's construction sites are monitored automatically and continuously with respect to the rules and requirements set out by the main contractor or developer. When a supplier registers at a site, the company is verified using data from external sources such as national competence registers and credit institutions. After verification, each supplier receives a status which, apart from being visualised centrally for all of the company's construction sites, is also displayed on each site where the site management can easily check that all companies in the subcontractor chain are compliant.
"We have developed a powerful tool where we exploit all existing worksite data and enrich it with additional information to provide a complete overview over the subcontractor chains, making it easy to minimise the risks."
– Björn Svennenfors, Chief Technology Officer, Infobric Construction
– Supplier Control is one of our largest product investments to date. It addresses a complex challenge that all stakeholders in the construction industry face and we have created a unique solution that makes it easy for both key positions at the head office as well as site management, to verify that all suppliers are compliant with the requirements that have been set. We have developed a powerful tool where we exploit all existing worksite data and enrich it with additional information to provide a complete overview of the supply chain, making it easy to minimise the risks," says Björn Svennenfors, CTO at Infobric Construction.
Developed in collaboration with JM
Infobric developed the Supplier Control service in close collaboration with JM, one of the Nordics' leading project developers for residential properties and the property sector. 
– JM works tirelessly to strengthen its processes and digitisation is often the key to being able to work more efficiently and more structured. The process of manually verifying all companies working on JM's construction sites used to take up a lot of resources and maintaining a real-time overview was not possible in the way that it is with the help of a digital system. Now, the subcontractor monitoring is also being structured within the system, and the flows between purchasing and production is  strengthened, says Helena Paulun, Health & Safety Manager at JM Group.
– By conducting this supply chain monitoring in real-time, and also easily verify whether all individuals present on the site have undergone the industry safety training (Safe Construction Training) we are increasing the level of safety and security at all our construction sites. JM sees a great benefit to be gained from intra-industry collaboration on these issues, so that we can create safer, more secure and more sustainable construction sites together," she continues.
Supplier Control was launched in June 2021 through a digital event in partnership with JM. You can watch the event here